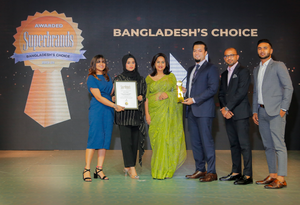 Monno Ceramic Awarded Superbrands 2023-24
Tableware ceramic manufacturer and leading exporter Monno Ceramic was awarded the Superbrands award in the category of "Best Tableware Brand of Bangladesh" for the year 2023-2024. The recognition has been awarded by the Superbrands organization, which identifies the most outstanding brands in their respective fields. An independent panel of judges made the selection of winners for the prestigious global status. In a gala event on 11th February 2023 Superbrands Bangladesh, in association with Bangladesh Brand Forum presented the awards to Monno Ceramic along with other prominent brands from various industries. 
The Managing Director of Monno Ceramic, Mr Rasheed Mymunul Islam received the award from Nazia Andaleeb Preema, President, Women in Leadership (WIL) and Founder, Bangladesh Creative Forum (BCF).
Monno Ceramic has been a household brand of Bangladesh for almost 4 decades, and receiving this award further solidifies the brand image and the vision the company continuously strives to achieve. With a state-of-art production facility, intensive research and development, internationally sourced raw materials and extensive marketing activities, Monno Ceramic has been able to retain its market presence as the most trusted ceramic tableware brand for more than 3 eras.
Monno Ceramic team thanked all of its customers, stakeholders and well-wishers in this joyous event, and would like to dedicate this achievement to all of them.
---